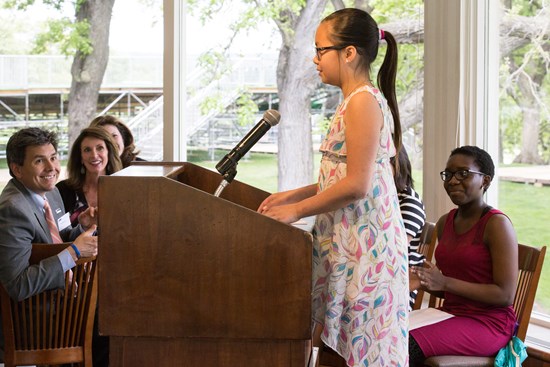 Turning down the volume
I believe that the job description of a school board member is to translate community values into district priorities. I felt my first responsibility as a board member was to turn down the volume and foster a more cooperative environment on the board than what I has seen in the years surrounding the end of Dr. Sebring's tenure as Superintendent. I believe our board has turned the page and is clearly focused on achieving the best results for our students.
Academic excellence
In the past four years:
All five comprehensive high schools have seen their place on the statewide rankings of Advanced Placement exams per graduating senior.
Our four year high school graduate rate has grown from 79.36% to 81.16%, an all-time high.
DMPS graduates are leaving high school more prepared for college and career than ever before!
Breaking barriers
In 2015, my board colleagues elected me chair, making me the first Latino chair of the Des Moines School Board. One of the reasons I ran for school board in 2013 was to represent the Latino community.
My advocacy and defense of the Latinos is something that benefits all Des Moines residents. Our community is becoming more and more diverse, and the Latino community is pacing our school district's growth. We all want our neighbors to be valuable contributors, but in order to do that we have to provide education to all with as few barriers as possible. I see no difference in the hopes and potential from one child to another, whether they are gifted, undocumented, special needs, or all of the above. My job as a board member is to create hope and safety for all of our children.
Protecting our most vulnerable
I ran in 2013 because I knew the Latino community in Polk County needed a win. But I didn't foresee what was coming for our undocumented students and their families, many of whom are Latino. Much of my board term overlapped the era of Deferred Action for Childhood Arrivals (DACA) which has allowed thousands of Iowans to pursue work and college safely. But that safety has been fractured in the last several months by increasing government raids that have expanded the target beyond criminals to parents and young people with no criminal history.
To answer the fear in our community, the Des Moines School Board voted unanimously to pass two resolutions that protect students, staff, and families and affirm our support for DREAMers. This work is personal to me because I share a cultural heritage with so many undocumented Iowans. But I believe it is also essential for a board in a city as diverse as Des Moines to lead on issues like this. Because one of our bedrock repsonsibilities is to protect our most vulnerable. And who is more vulnerable than a 6 year-old undocumented kid in one of our first grade classrooms?
The boring stuff
The hard part for a new board member is processing the myriad votes to take, decisions to make, and data points to absorb. 99% of our work is not going to show up in the Des Moines Register. There are procedural motions, monitoring reports, financial reports, public hearings, and on and on and on. But that boring stuff is all very important to maintaining a well-run district. I'm proud of my work on the big and tough issues we have been confronted with. But I'm also proud of my willingness to engage and put in the work on the less flashy stuff. I aspire to run an inspirational campaign. I plan to continue being a diligent board member.