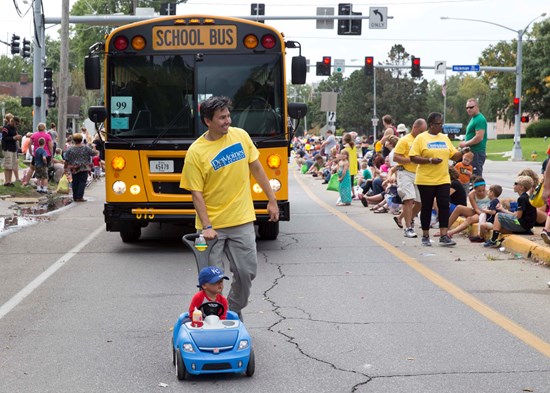 Protecting our most vulnerable
I am running to serve every family in Ward 1. That includes our most recently-arrived neighbors- whether they are eligible to vote or not. One of my proudest days of service on the school board was in February 2017 when my board colleagues joined me in a unanimous vote to pass two resolutions that protect students, staff, and families and affirm our support for DREAMers. This work is personal to me because I share a cultural heritage with so many undocumented Iowans. But I believe it is also essential for a board in a city as diverse as Des Moines to lead on issues like this. Because one of our bedrock repsonsibilities is to protect our most vulnerable. And who is more vulnerable than a 6 year-old undocumented kid in one of our first grade classrooms?
Sweating the small stuff
City Council is public service much more than it is politics. The hard part for a new board member is processing the myriad votes to take, decisions to make, and data points to absorb. 99% of a Councilmember's work is not going to show up in the Des Moines Register. There are procedural motions, reports, work sessions, committee assignments, and on and on and on. But that boring stuff is all very important to maintaining a well-run city. I'm proud to say that I live for that stuff. I first ran for public office because I grew up with all the romantic ideas of serving my community. After eight years of service to the school district, I'm just as romantic. I sweat the small stuff. I like the detail and live for the moments when there is no easy answer. If I am elected, the City can count on me to be diligent and detail-oriented.
Service and Recognition
Service is very important to me. I firmly believe in always serving my community. I currently serve on several community boards including United Way of Central Iowa, Mid Iowa Health Foundation, and Polk County Early Childhood Iowa. I am a regular blood donor. During the school year, I volunteer weekly at Moulton Elementary School for the Everybody Wins program. Everybody Wins pairs volunteers with elementary students in a mentoring program in order to increase reading fluency, comprehension and academic confidence. I have read with students in the program since 2002.
Everything I am most proud of was done in service to my community and alongside other leaders and advocates. Accomplishments I've been honored to receive include:
The Wall Alumni Service Award from Grinnell College
Latino Leadership Award from the League of United Latin American Citizens
The Des Moines Business Record's 40 Under Forty
One of the most influential people of color in the Midwest by Madison365